Life Of Pi is a visually stunning piece of cinema, yet is also a wonderfully simple tale of spirituality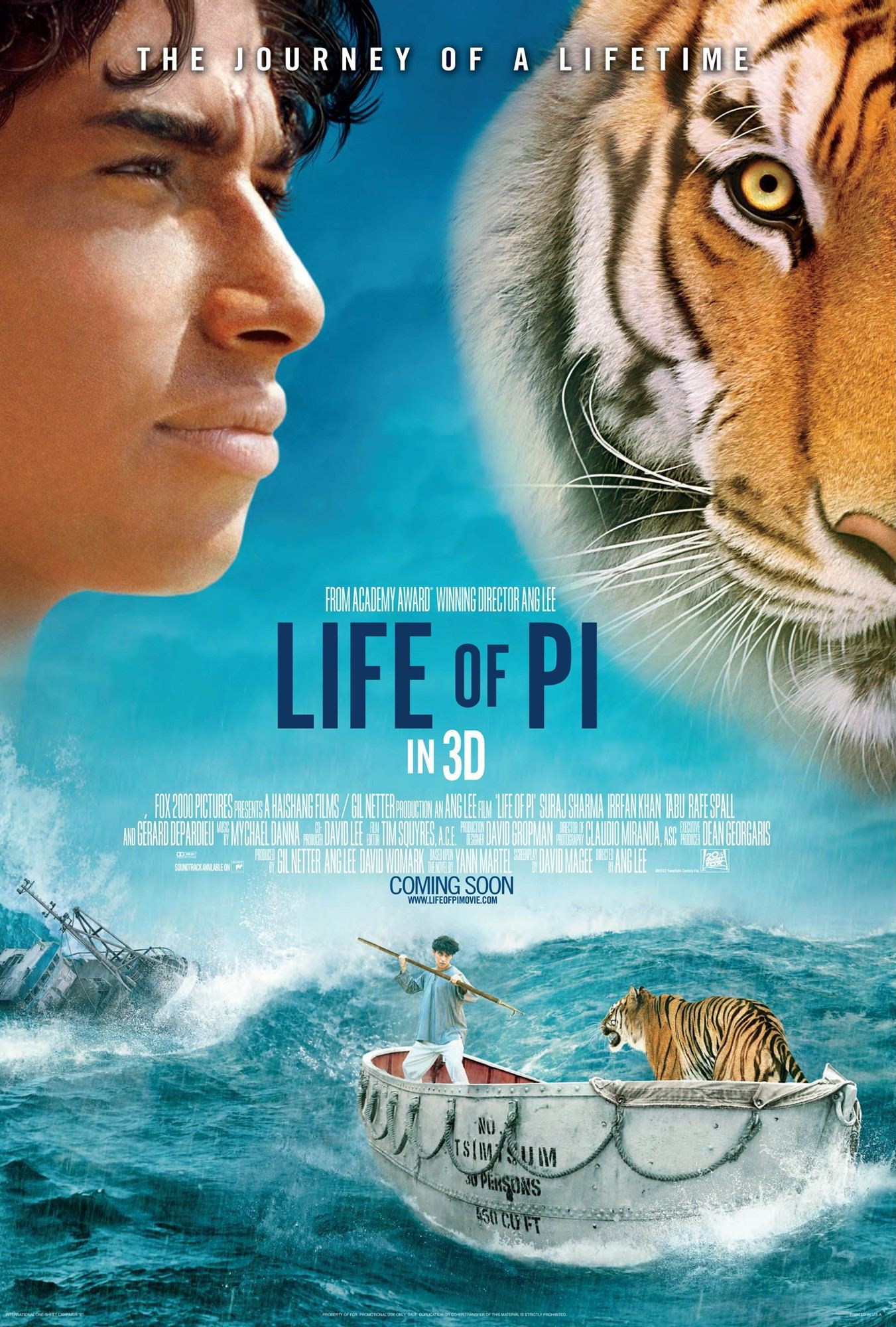 Oscar winning Director Ang Lee takes on Yan Martel's 2001 novel, Life Of Pi. The story revolves around 16 year old Piscine Patel, or Pi and his wonderful, impossible journey through the pacific, as he is left shipwrecked with a ferocious Bengal tiger. Suraj Sharma plays the titular Pi as a 16 year old, while Irrfan Khan plays the adult version. Rafe Spall plays the aspiring writer hoping to pen Pi's story while Tabu, Adil Hussain, Gerard Depardieu and Vibish Sivakumar also appear in the film.
The film opens with Rafe Spall's writer and Khan's older, reflective Pi discussing his early beginnings and the start to Pi's remarkable journey. Pi is brought up round a zoo which his family owns, and when his father decides to uproot the family and all the zoo animals and move to Canada, Pi finds himself unhappy at leaving his native India. Forced to go along with his Father's plans, the family end up on a large ship in the Pacific with an array of exotic animals including monkeys, hyaenas and the film's starring tiger, timidly named 'Richard Parker' despite its fierce nature. After a dreadful storm killing his family and the rest of the crew, Pi manages to escape on a lifeboat, yet he is not alone, waking up to the beastly bengal. Pi attempts to tame the tiger as well as try and desperately survive on rations. Pi eventually realises he needs Richard Parker in order to survive, to keep himself busy, and to be given something to live for.
Life Of Pi is full of energy and bursting with colour. It is easily the best use of 3D I have seen since Martin Scorsese's Hugo, Ang Lee clearly knows what he is doing when it comes to the medium, it is beautifully pulled off. In particular, the fluorescent scenes on the desert island, showcasing the deep blues and greens which give the viewer a sense of living Pi's adventure. In terms of acting talent, Suraj Sharma more than holds his own on his film debut, while Irrfan Khan is solid as always. Life Of Pi is not a character piece though, and it's main pull is surely its visuals. The beauty of Life Of Pi is its spiritual undercurrent, in which its cinematography and overall vibe give us a sense of natural wonderment and awe, while Lee's depiction of such a marvelling natural world only gives heed to this argument.
Life Of Pi is life-affirming and above all else, beautiful. It is a shoe in for this award season's visual and technical nominations, while it has already received three Golden Globe nominations including Best Director and Best Picture. It's one of the best 3D pictures of the year, if not in the medium's short life. 4/5