I originally drew up a list of 50 of my favourite films for this list and have carefully narrowed it down to the final ten! It took a while to decide and i'm still pretty unsure on a couple, but I think this list (in no particular order) best represents my favourite ten films, along with a good mix of my favourite directors and actors. Enjoy:
1. The Royal Tenenbaums - 2001, Directed by Wes Anderson
Although this list is in no particular order, The Royal Tenenbaums is probably my favourite film, while Anderson is one of my favourite directors, with his other films, Rushmore and The Life Aquatic with Steve Zizzou only just missing out on my top ten. The Royal Tenenbaums mixes oddball charm, a superb cast and Anderson's innate ability to make wonderful relationships between characters on screen to create a classic. The film also boosted my opinion of Gwyneth Paltrow, before, I saw her as a mediocre, second rate actress, but her emo-like portrayal of Margot won me over. A wonderful, charismatic film, and Wes Anderson's finest.
2. Midnight in Paris - 2011, Directed by Woody Allen
Midnight In Paris is one of Woody Allen's masterpieces, it is surreal, fun and beautiful. On first viewing I absolutely loved it, the idea, the script, the wonderful cinematography, Paris has never looked better. Owen Wilson is fantastic in the lead role, and channels some of Allen's mannerisms from his script perfectly. It deserved a lot more than the one Oscar it received (Best Original Screenplay), it was however critically acclaimed on release. I'm sure over the next few years, Midnight in Paris will become timeless.
3. Manhattan - 1979, Directed by Woody Allen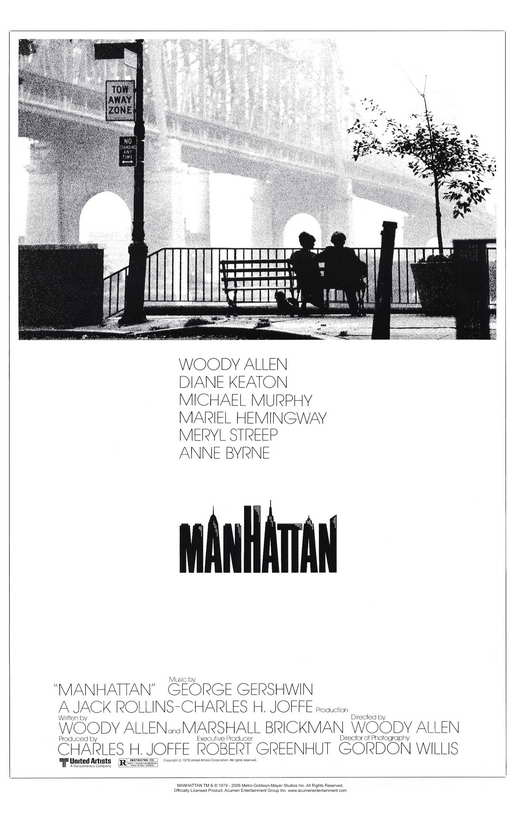 Like Midnight In Paris, Manhattan is aesthetically pleasing. Filmed in magnificent black and white against the backdrop of a 70s New York, it follows the life of an intelligent comedy writer, Isaac (played by Woody) and his romantic and social endeavours. If Allen's direction and writing wasn't wonderful enough, his acting is also spot on, and doesn't suffer from the 'triple burn out' of writing, directing and acting. The film was nominated for two Academy Awards and lost out on both, but deservedly won the BAFTA for best film. Manhattan hasn't aged at all, it is charming and still hilarious, and Allen's love letter to New York.
4. Lord Of The Rings Trilogy - 2001-2003, Directed by Peter Jackson
There was only room for one trilogy in my top 10, and The Lord Of The Rings only just made it. The Back to the Future trilogy had always been my favourite up until very recently when I re-watched Peter Jackson's adaptation of the Tolkien's books. Not only are the movies action packed and consistently brilliant over each film, they are also filled with stunning visuals and engrossing acting, Peter Jackson creates a realistic world no one ever wants to leave. Other trilogies also challenged the LOTR, Christopher Nolan's recent Batman trilogy is comparable, as is the inspiring Toy Story franchise, but the sheer scale of LOTR just sets it apart from the others, and in my opinion is the greatest movie trilogy of all time.




5. Reservoir Dogs - 1992, Directed by Quentin Tarantino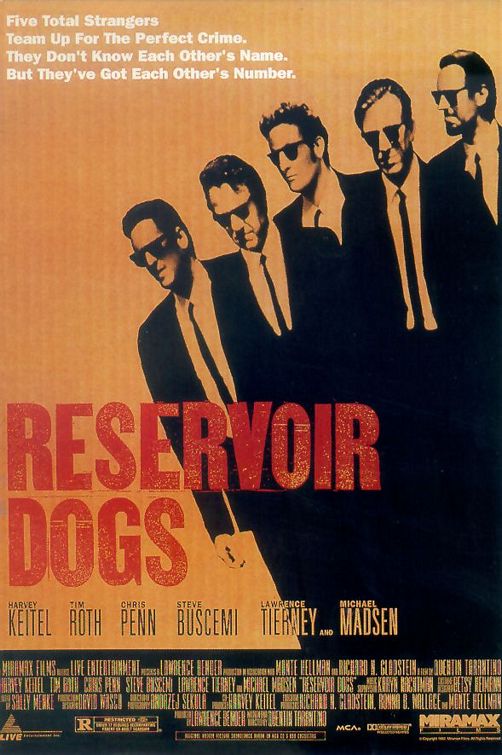 There is no doubt in anyone's mind that Quentin Tarantino is one of the finest film directors of the past 25 years. Pulp Fiction, the Kill Bill films, Jackie Brown, Death Proof, all very good films in their own right, but Reservoir Dogs, in my opinion is his greatest achievement. Stylistically it is perfect, from the grimy cinematography, the sharp suits, to the ever-cool soundtrack, the cast is also spot on with superb acting from everyone, particularly Tim Roth.
6. Inglorious Bastards - 2009, Directed by Quentin Tarantino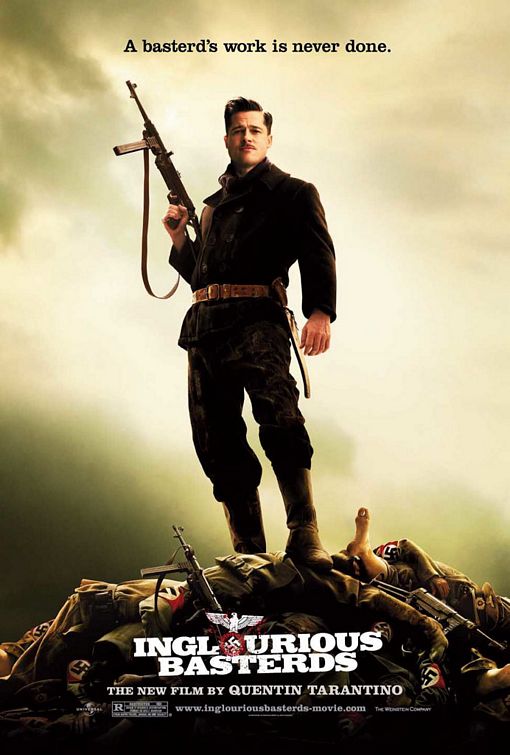 Inglorious Basterds is again one of Tarantino's masterpieces, although I don't rate it as highly as Reservoir Dogs, it is still absolute genius. The cast is stella, with under rated performances from Brad Pitt, Michael Fassbender and Melanie Laurent, but Christopher Waltz's Hans Lada stole the shine with his calmly creepy portrayal. He deservedly won the BAFTA, Golden Globe and Academy Award for his performance. Inglorious Basterds is Tarantino's best film since Pulp Fiction, and I can't wait for his next epic, Django Unchained, released in the UK in January.


7. Taxi Driver - 1976, Directed by Martin Scorsese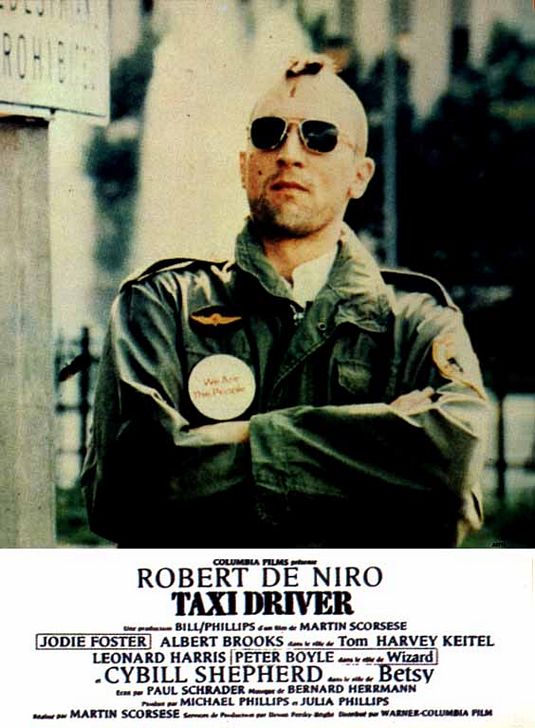 Martin Scorsese is undoubtedly a director who's lasted. From Taxi Driver to Raging Bull, to Goodfellas and The Departed, his films are undeniably some of the greatest of the past 50 years. In my opinion Taxi Driver is his best film, it shows us the other side of 70s New York to the one portrayed in Woody Allen's Manhattan. Robert De Niro's Travis Bickle explores the trashy New York, from the scummy neon lit streets to the city's crooked underbelly. You can't criticise his acting, De Niro is faultless. Taxi Driver is a timeless classic, and heavily recommended.
8. The Squid and the Whale - 2005, Directed by Noah Baumbach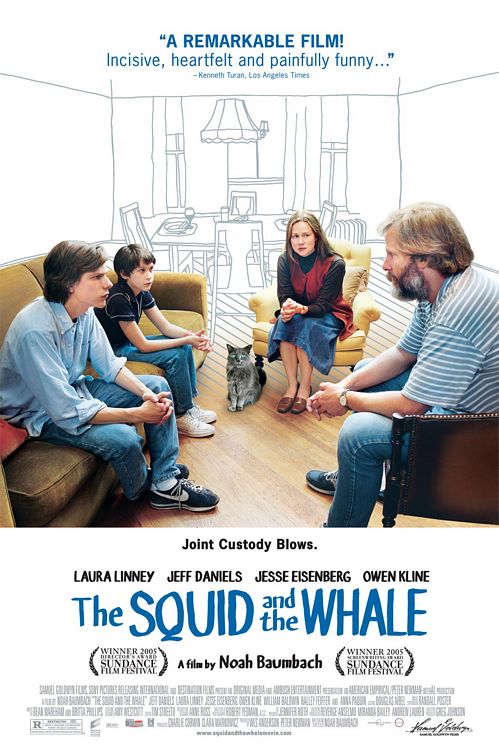 I only watched The Squid and the Whale for the first time a couple of weeks ago, but it didn't need much time to become one of my favourite films. It is tragic yet comical and one of the most under rated independent films of the past 10 years. Noah Baumbach manages to translate the confusingly balanced relationships on screen into some what simple viewing. The camera work is great and unlike some films (for example, Adventureland, ironically also starring Jesse Eisenberg) makes the film truly look like it's from the 1980s. The film also ends before it gets too far past its depth, clocking in at 1 hour 17 minutes, Noah Baumback knows his limits.
9. The Graduate - 1967, Directed by Mike Nichols
The Graduate could make my top 10 list merely for Dustin Hoffman's perfectly neurotic performance as Benjamin Braddock. But this 1967 BAFTA Best Film award winner goes so much deeper than that. It is a mis-guided, angst ridden, delightful journey through the eyes of a post-university graduate. Not only is it quite moving, it is also humorous and wonderfully satirical. The ending scene will either leave you happy or tenderly sad depending on your interpretation. Set to a superb soundtrack by Simon and Garfunkel, this coming-of-age tale will leave you more than satisfied.
10. The Iron Giant - 1999, Directed by Brad Bird

There's always a kind of snobbery when an animation film is talked up in the same way as a good real life movie. Yet animation films continually move us and make us laugh, more so than many real life dramas or comedies. The Iron Giant is no exception. Made in 1999, at the box office it was not well received, mostly due to poor advertising, yet it was praised by critics. I loved The Iron Giant when I was younger and had the pleasure of watching it again recently, it is still just as wonderful years on. It follows the tale of a young boy and his friendship with an alien robot, although the animation is basic, the story is heart warming and hilarious, and the film's finale will leave you shedding more than a few tears.
And 10 films that narrowly missed the cut...
The Dark Knight Trilogy
Rushmore
One Flew Over The Cuckoo's Nest
Moonrise Kingdom
Annie Hall
The Life Aquatic With Steve Zizzou
Back to the Future Trilogy
The Trip
No Country For Old Men
Dead Poet's Society